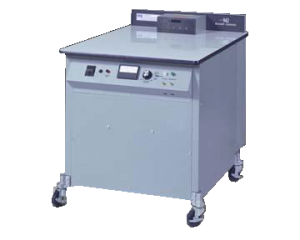 The Model 942B is a high-voltage magnetizer capable of saturating large volumes of Alnico, Barium Ferrite, and Rare Earth materials. The Model 942B is easily adapted to a wide range of production and laboratory magnetizing requirements. Modern solid-state electronic control circuitry, coupled with a heavy duty discharge SCR and fixture, make this magnetizer a highly reliable, low maintenance unit. The electronic voltage control circuit prevents the Model 942B from being discharged before the preset voltage level has been reached, avoiding incomplete magnet saturation. Both wire wound or solid copper and iron magnetizing fixtures can be utilized with the Model 942B. Utilization of our Model 7702 or Model 7778 Pulse Transformer enables processing of "C" shaped load isolators, single or "U" shaped magnetrons, flexible strip magnets, and a wide range of motor configurations.
The Model 942B is available in four basic configurations, depending on the number of 100uF capacitors installed. Additional capacitors, up to a total of eight, can be ordered and added to the capacitor bank at a later date.
| | | | |
| --- | --- | --- | --- |
| Model | Capacity | Model | Capacity |
| 942B-2 | 2 (200uF Total) | 942B-6 | 6 (600uF Total) |
| 942B-4 | 4 (400uF total) | 942B-8 | 8 (800uF total) |
All electronic circuitry and storage capacitors are enclosed in the instrument cabinet. A comprehensive system of interlocks disables the line input and storage circuits when charging fixtures/transformers are unplugged, or any of the cabinet access covers are removed.
Auto Charge to Preset level, Push to Discharge
Push to Charge, Auto Discharge at Preset Level
Push to Charge, Push to Discharge
The high power discharge SCR and free wheeling network can pass very high currents so that repetitive currents are not reduced by built-in current limiting inductors. This SCR is capable of surviving a non-repetitive, short circuit output without failure.
Energy Level & Recharge Times
| | | |
| --- | --- | --- |
| Model | Watt-Seconds | Approximate Charge Time to 3000V (sec) |
| 942B-2 | 900 | 2 |
| 942B-4 | 1800 | 4 |
| 942B-6 | 2700 | 6 |
| 942B-8 | 3600 | 8 |
Note: The cycle times listed here are approximate capacitor recharge times to 3000 VDC. Lower voltages will produce faster recharge times, however, actual cycle times may vary depending on fixture cooling requirements and input line voltage.
Typical Peak Magnetizing Forces Using Accessory Charging Transformers: 7702* Transformer – Peak H = 16,000 Oersteds, 7778 Transformer – Peak H = 13,000 Oersteds *For use with the Model 942B-2 only.
Peak Magnetizing Fields Using Wire Wound Fixtures: Peak magnetizing forces up to 60,000 Oersteds are attainable with wire wound fixtures.
Discharge Capabilities: Capable of discharging 30,000 Amps at a 10 second cycle rate. Higher discharge currents are achievable at slower cycle rates. Maximum repetitive di/dt is approximately 2000 Amps/micro-seconds.
Input Power Requirements:
120VAC, 10 Amps, 50/60 Hz
220VAC, 5 Amps, Single Phase, 50/60 Hz With Step Down Transformer
Weight (Net):
Model 942B-2: 235 lb (106 kg)
Model 942B-8: 370 lb (168 kg)
Dimensions (All Units):
Height: 38 in (96.5 cm)
Width: 30 in (76.0 cm)
Depth: 33 in (83.8 cm)
*Specifications subject to change without notice